Back to Battery Switches
Auto Charging Relay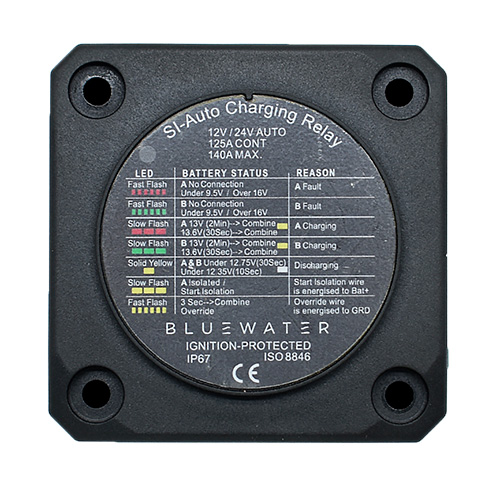 MSRP $XX.XX
Automatically combines two batteries when charging and isolates the two batteries when not charging.
Allows temporary isolation of house loads from engine circuit during engine cranking to protect sensitive electronics: Start Isolation (SI) indicated by Slow Flash Yellow LED
Supports high-output alternators up to 120 amps
Dual Color LEDs light show two batteries individual status: Fault/ Charging/ Discharging/ Combine/ SI/ Override.
Under Voltage lockout – will not close when the lower battery is below 9.5V@12V or 19V@24V system – Louckout indicated by Fast Red Flash (Start Battery), or Fast Green Flash (House Battery).
Waterproof IP67 rating – temporary immersion for 30 minutes.
Ignition protected – safe for installation aboard gasoline powered boats.